Kruger Safari And The Panorama Route
Come with us as we discover South Africa's famous scenery and wildlife! This 6-day tour is tailor-made for nature lovers.
Our Price Match Guarantee promises you the lowest prices for our tours - guaranteed!
Show us the lower price and we'll match it!
Photos of the Tour
Summary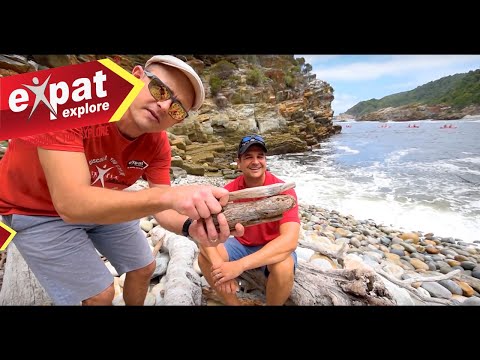 Are you ready for the wildlife adventure of a lifetime? Come with us as we explore South Africa's most famous national park and introduce you to its untamed wildlife. We'll meet in Johannesburg and head straight to the Kruger National Park Region. Here you'll go on safaris to see the Big 5, sleep in comfortable bush huts and enjoy delicious local food. Then we're off to the Panorama Route in the Mpumalanga province to see the Blyde River Canyon and Bourke's Luck potholes before returning to Johannesburg via Graskop. Sound good? Let's go!
Please note this tour forms the second leg of our South Africa Escape 14-day tour.
Accommodation
Expand all
Accommodation in Kruger National Park Region
Timbavati Safari Lodge
Timbavati Safari Lodge
Sabi River Sun Resort
Sabi River Sun Resort
Hotel Numbi and Garden Suites
Hotel Numbi and Garden Suites
Accommodation in Johannesburg
Garden Court Oliver Tambo International Airport
Garden Court Oliver Tambo International Airport
Holiday Inn Johannesburg Airport
Holiday Inn Johannesburg Airport
Itinerary
Start Point
Hotel Garden Court Oliver Tambo International Airport2 Hulley Road Isando Ext. 3 Kempton Park 1619, South Africa
approx. 12:00 hrs
End Point
Johannesburg HotelPlease contact us
from 10:00 hrs Johannesburg airport (Oliver Tambo International Airport)O.R. Tambo Airport Rd, O.R. Tambo, Johannesburg, 1627, South Africa
Complementary airport transfers offered - email us for confirmation
Day 1:
Johannesburg - Kruger National Park Region
Welcome to South Africa! Meet up with the tour at a hotel close to Johannesburg airport (see the help section for more information). Travel towards the Kruger National Park Region and settle in at a gateway destination to the Kruger National Park Region this evening. Did you know that the park is only slightly smaller than the entire country of Belgium? Dine under the African sky this evening.
Breakfast:
Lunch:
Dinner:
Day 2:
Kruger National Park Region
A full-day game drive in the Kruger National Park awaits! The elevated position in the bus makes it very easy to spot animals (if you're really lucky you'll tick off all of the Big Five today!) in the bush. The Kruger is very big and you can see African animals in their natural habitat. Animals you can expect to see include leopards, lions and elephants. There are also cheetahs, wild dogs and rhinos.
In the late afternoon, make our way to our safari lodge/hotel on the western edge of the park. Time for a relaxing swim in the pool and a sun-downer or two before an included dinner this evening!
Breakfast:
Lunch:
Dinner:
Day 3:
Kruger National Park Region: Free Day
Today you have the chance to embark from the safari lodge/hotel, led by local wildlife specialists in open safari trucks. Choose a half or full-day safari drive and spend time driving in prime game viewing areas, stopping at various waterholes and rest camps. Keep your eyes peeled and your cameras at the ready, watching these stunning animals in the wild is truly an experience to remember. On return to the lodge/hotel, slip into the pool to cool down and relax before enjoying an included dinner.
Breakfast:
Lunch:
Dinner:
Day 4:
Kruger National Park Region: Free Day
Today is your second free day to tailor your Kruger experience to your liking. You can go on another half-day, sunrise safari with a local wildlife expert. This amazing park has recorded 100+ reptiles species, 500+ kinds of birds and 140+ mammals! Or stay at the lodge/hotel and relax by the pool. Tonight is the last time we enjoy dinner at the lodge/hotel. Sit down around the bush fire as you swap safari stories and sip some Amarula. You have to try this local liqueur made from fermented marula fruit!
Breakfast:
Lunch:
Dinner:
Day 5:
Three Rondawels - Bourke's Luck Potholes - Blyde River Canyon Viewpoint - Johannesburg
Leave the Kruger behind and head towards the Panorama Route. This is a famous scenic area in South Africa's Mpumalanga province. Onwards to the Drakensberg escarpment to look out over the Blyde River Canyon from the famous Three Rondavels viewing point. If there ever was an epic view, this is it. Ready your cameras! Afterwards, we go to Bourke's Luck potholes. This natural water feature is made up of literally hundreds of potholes and plunge pools, and marks the start of Blyde River Canyon. Afterwards,  travel back to Johannesburg. Check in at the hotel, and meet up for farewell dinner and drinks. 
Breakfast:
Lunch:
Dinner:
Day 6:
Johannesburg: End of tour
And so the last day of your South African wildlife & scenery trip has arrived. Have one last breakfast together to say bon voyage. Guests are welcome to stay on to explore Jozi, as the locals call Johannesburg. If you are flying home today, a complimentary airport transfer is offered to take you to Johannesburg airport.
Breakfast:
Lunch:
Dinner:
Optionals
All optional excursions are booked on tour and paid in cash to your tour leader, unless stated otherwise. Please note, certain optional excursions are subject to availability and could change as a result.
Transfers
Book your airport transfers with Expat Explore
Accommodation
Want to spend some time in your tour departure location? We offer pre-tour accommodation!
Guaranteed departures
- you won't miss your holiday!
All our tours are guaranteed to depart, so you never have to worry about your tour being cancelled at the last minute.
Dates & Prices
Our pricing model: Lowest-priced seats are sold first, then the price increases slightly. The quicker you book, the less you pay. Select a date below to secure your seat.
View all dates
Question?
Or call
Please complete the form and we will be in contact with you about this tour!
Have a question?
Expand all
SAE2L